What is the Total Combustion Solution?
Measure, Maximize, and Maintain Your Combustion.
We designed our Total Combustion Solution (TCS) so companies like yours can increase your furnace performance by 10-20%, and sustain it.
TCS is the long term solution you've been looking for.
Consisting of:
Combustion Monitoring & Alerting
Radiant Tube Inserts for applicable furnaces
Expert Training and Service Team


Everything you make goes through a furnace at least once. This means combustion performance is directly tied to business performance. TCS is a cost effective, long term solution with an almost immediate ROI. After the installation of TCS, your company will see combustion efficiency rise significantly, yielding one or more of:
Higher product quality
Increased BTUs to the load
Increased throughput
Reduced emissions per ton
Decreased fuel cost
COMBUSTION MONITORING & ALERTING
MEASURE
Our engineers have created an IIoT solution that solves common combustion problems companies like yours have been facing for decades. Our solution, Combustion Monitoring & Alerting (CMA), is the simplest way to evaluate and optimize your combustion system. Created using modern technology and the PSNERGY Cloud, with CMA, combustion control is at your fingertips.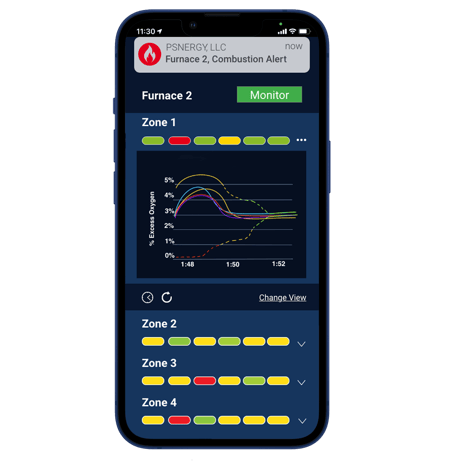 Manual is outdated and inefficient, go automatic today.
The power of CMA lies within your personalized combustion performance reports, derived from a multitude of sensors. Use real time data to determine the need for immediate action if furnace levels fall outside of an acceptable range, or use historical data to easily identify past trends and predict new ones.
CMA uses a suite of sensors including excess oxygen, air and gas pressures and flows to provide an unprecedented data driven view of the combustion system. Data from these sensors is seamlessly deployed to combustion performance reports and real time dashboards. CMA not only automates the process of manually checking combustion, it also functions as a digital meter when it's time to make an adjustment.
With CMA, your team has capabilities to measure the following:
Zone, tube and burner variations

Gas regulator performance

Motorized Control Valve (MCV) function

Heat ups and downtime




CMA measurement hardware installs on every burner of the furnace and measures them all simultaneously. This unlocks the ability to finally track down pesky combustion issues and stabilize the system by balancing and tuning entire zones at a time.
Our solution makes proactive maintenance, consistent delivery, and combustion efficiency effortless.
MAXIMIZE
Our patented Radiant Tube Inserts (RTI's) are a quick, retrofit solution designed to combat the current and future challenges of the industry. Now more than ever, companies like yours are facing increasing environmental regulations, quality requirements, and resource costs. RTI's provide you the opportunity to increase your radiant tube furnace performance 10-20%.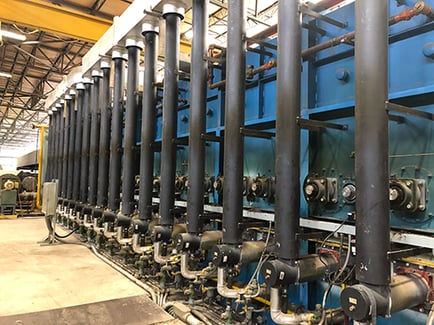 RTI's can be used in a variety of furnace configurations:
U-Tubes
W-Tubes
Straight Tubes
Trident Tubes
Recuperated & Non-recuperated systems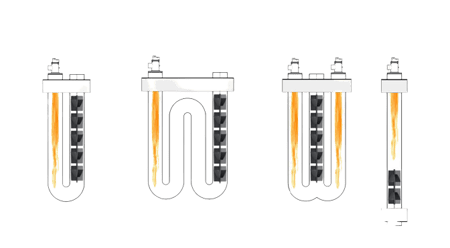 Our patented design consists of convective wings that continually mix exhaust flow and drive energy toward the shell. When positioned parallel to the tube surface, the shell maximizes energy transfer toward the load. Composed of silicon carbide, RTI's have near perfect emissivity, are thermally stable above 3,000°F and are highly resistant to oxidation.
The functionality of RTI's are accompanied by a multitude of benefits. Gain the ability to:
Increase your radiant tube life by maximizing heat transfer
Minimize hot spots and the potential for cracked tubes
Reduce energy consumption and emissions per ton by redirecting wasted energy toward the load
Meet customer product quality requirements by improving furnace temperature uniformity.
EXPERT COMBUSTION SERVICE TEAM
MAINTAIN
Long term results in your combustion performance requires corrective action and preventative maintenance. Optimizing your combustion performance involves more than just corrective tuning.
Your biannual on-site service includes the following: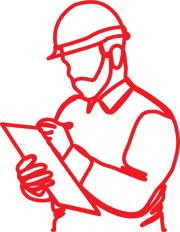 Adjustment of motorized control valves and linkages

Tuning & balancing fire rates between tubes

Evaluation of all valves, orifice plates and regulators

Furnace walk through

Service reporting

Equipment certification
Combustion training is another crucial part of maintaining optimal combustion performance. Our training sessions are designed specifically with your team, equipment and operational requirements in mind.
Training with our Process Heating Specialist consists of:
Session 1: classroom training where members of your team will learn about the fundamentals of combustion and the importance of the chemistry behind the flame
Session 2: an on-site furnace walk through complete with a personalized tuning demonstration


SAFETY, QUALITY, DELIVERY & COST
How TCS Will Impact Your Operations
Improve your facility's safety, ensure consistent high quality products, benefit from the delivery of real time data, and eliminate unnecessary cost and lost value.
Safety
Significantly reduce your crew's exposure to unsafe conditions, including high heat, high CO, or oxygen depleted environments
Eliminate manual combustion checks with 100% automated gas sampling
Decrease emissions caused by poor, unmonitored combustion conditions


Delivery
Ensure reliable shipment of your thermally processed materials
Increased throughput results in faster delivery times meeting customer expectations
Quality
Eliminate poor furnace performance, nonuniform heating, process variability, and ultimately ensure that quality problems are in the past
Receive real time data driven reports that serve as a historical record of combustion quality and process consistency
Cost
Decrease gas consumption per ton while maximizing BTUs to the load
Eliminate unplanned downtime due to emergency maintenance
Increase furnace efficiency and throughput by 10-20%